Make sure you come out on top in the fast-paced game Gatekeeper Eclipse with these tips for new players.
Gatekeeper Eclipse is an isometric roguelike shooter where you try to finish your goals before you get buried by enemies, projectiles, or both. You kill hordes of enemies that get harder as you go and try not to die.
Like other roguelike games, it doesn't tell you much about how to play. Other than a list of your character's powers and some background information in the mode select, you have to figure everything out on your own. Here are some things you should know before you start Gatekeeper Eclipse if you want to beat your opponents for as long as possible or even if you just want to learn how the game works.
Play On A Controller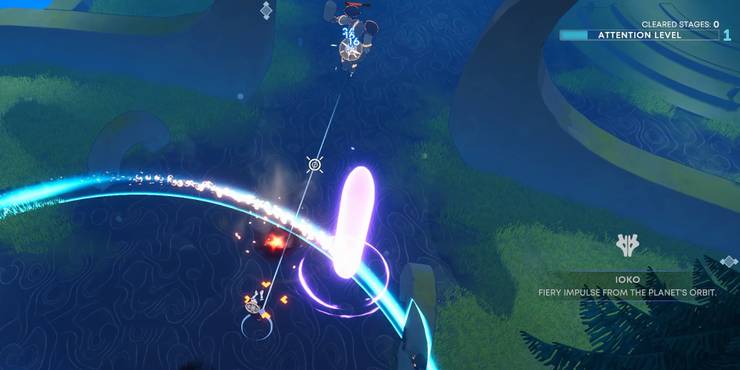 The game works fine with a mouse and keyboard, but a gamepad is a lot more fun. Gatekeeper Eclipse is a twin-stick shooter, and it's easier to move around and aim with two sticks than with one.
Using the WASD keys to move and dodge feels hard on the wrist, even though using a mouse gives you more accurate aiming, which you don't really need.
There Are Two Modes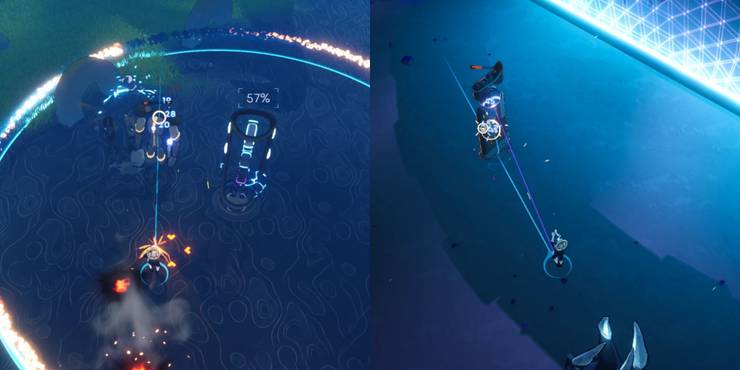 At the moment, the game has two modes: Aurora and To The Nowhere. In the second one, you have to fight a set number of enemies who are trying to destroy a gate. A Catharsis Obelisk gives you power-ups from time to time. There are four levels, and if you fail to protect a gate, the leftover enemies will be added to the last area, where you have to protect the Heart of Time from waves of enemies and a boss.
On the other hand, Aurora has four levels that loop and get harder over time, like Risk of Rain. Every four steps, you fight a boss. You kill enemies to get coins, which you can use to buy power-ups from obelisks that are scattered around the map. To finish a level, you have to turn on three totems and stay near them until they are fully charged, because the area inside the totem gets more dangerous as time goes on.
Character Differences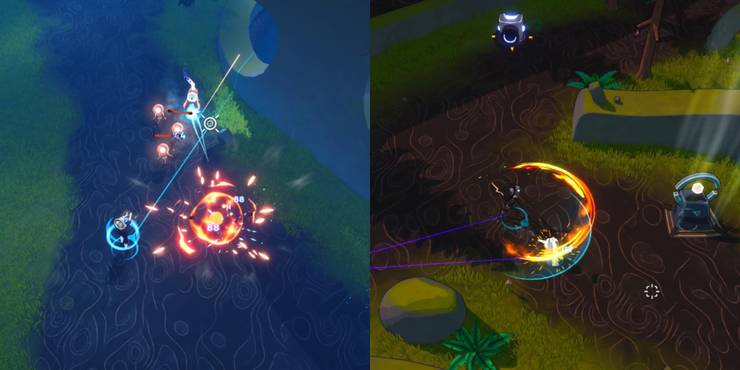 You can choose to play as either Hybrid or Nidum. You can use Hybrid right away. But you can't use Nidum until you successfully defend the Heart of Time in To the Nowhere.
Hybrid is a gunner whose skills focus on hitting from a distance and keeping that distance. Nidum, on the other hand, is a high-risk, high-reward assassin-berserker whose skills focus on keeping enemies close to deal the most damage. The first group gets a second chance once per run. While the second group does more damage the less health it has.
You've Got To Remember Some Math Concepts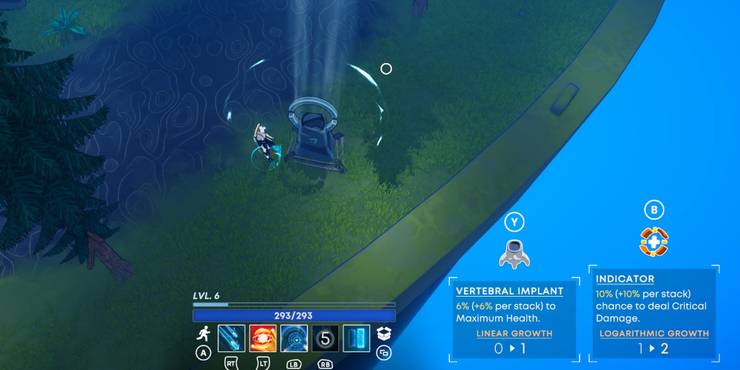 You might notice that each increase shows its type of growth—linear, logarithmic. Or exponential—to show how it gets stronger every time you pick it up.
This is important information that you should think about when making a choice. Few games give you this kind of information, and even fewer boil it down to basic maths. So it's reasonable if you don't understand them right away.
Linear growth means that the ability gets steadily stronger every time you put more time and effort into it. Logarithmic growth means that your efficiency goes up a lot at first. But it goes down as you put more money into it. Exponential growth is the opposite. It gives you small gains at first, but as you add to it, it gets a lot stronger.
Stat Priorities (Should) Vary By Game Mode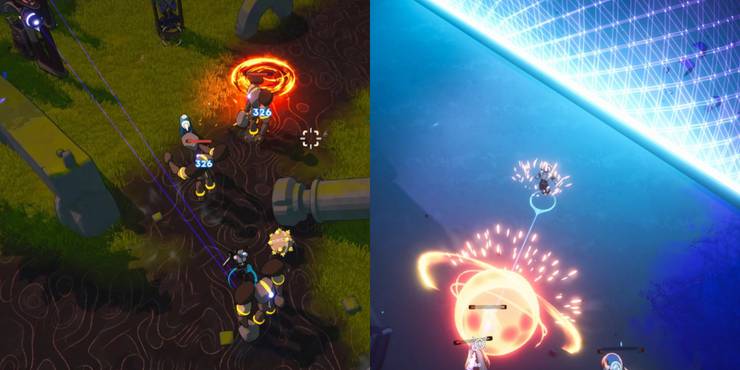 The goals in Aurora and To The Nowhere are very different. So you should handle your stats and upgrades differently based on which mode you choose. In To the Nowhere, you are in a defensive situation where you are trying to keep a goal from being destroyed. You get a steady, if not constant, boost in power. So that enemies don't overwhelm you and destroy what you're trying to protect. You should focus on attacking power so that you can kill them as soon as they show up.
In Aurora, on the other hand, you are the target. And you have to move around a pretty large map to get your power-ups and turn on the totems you need to finish the level. Keeping this in mind, you should put more money into defence and speed upgrades so you can move quickly between goals and stay alive when enemies attack.
You shouldn't forget about your attacking skills either, since you still have to kill all those enemies.
There's Friendly Fire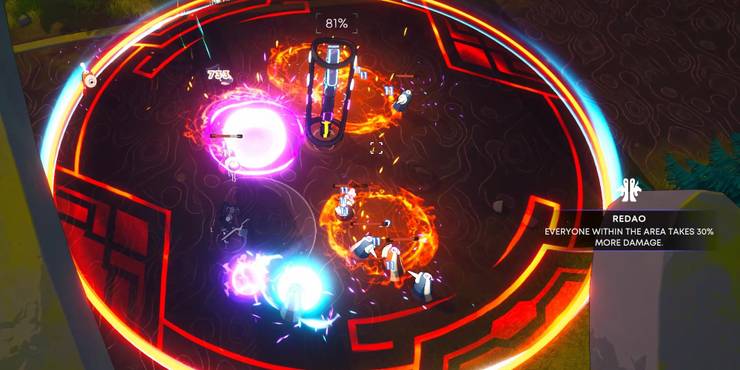 …at least for the enemy. Even though it's hard to tell with all the noise, enemies can hit each other, and they do so quite often. This is especially true in Aurora, where totems' defences also hurt enemies and the area around the totem is small, so this will happen often.
Even though they aren't hurt as badly as you are, every bit of damage helps. Just make sure to avoid enemy strikes as you attack them, and you'll be fine.
You Have An Ultimate Move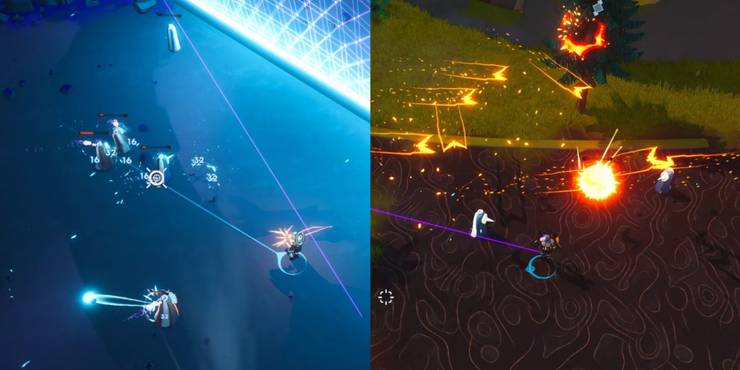 You have a final move, even though Basket Random game doesn't say so. By default, it is set to RB/R1/R on the controller and F on the computer. Even though both abilities are strong and have the potential to clear a crowd, neither is very exciting or has a long cooldown.
The Charged Core is the only improvement that makes this difference important. This improvement gives you more charges for your ultimate ability. Which means you can use it more than once before it goes away.